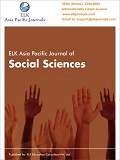 ELK Asia Pacific Journal of Social Sciences (EAPJSS)
Area of Research
Archaeology, Environmental Science (General), Health, Health Informatics, History, Human Factors and Ergonomics, Language and Linguistics, Public Health and Health Policy, Renewable Energy, Sustainability and the Environment, Safety Research, Social Psychology, Social Sciences (General), Sociology and Political Science
Journal's Aims & Scope
With the purpose to disseminate quality research articles, technical briefs, review reports that contribute to the existing knowledge in the domain of social sciences. Articles are invited for publication through double-blind peer reviewing process in this quarterly Open Access journal. Research must be directed towards theoretical and/or speculative modelling, inclusive of practical application techniques of statistics and mathematics.
Social Science, in the classic sense as well as in the contemporary thoughts, is a broad area that encircles, while not being restricted to, large fields of scientific knowledge such as:
Anthropology

Sociology

Economics

History

Archaeology

Ethnic and Gender Studies

Psychology

Environmental Studies

Business Administration

Political Science

Public Health and Safety

Demographic and Cultural Studies

Ethnography
Creating a unique forum that presents theoretical debates, empirical analyses, comparative reports and case studies, which diverge from the narrow disciplinary stream, and pierce through the innovative advancing focus, is something we endeavour to achieve. We offer this meeting space for you to join and broaden the information base of national and international scholars and authority holders so as to come up with substantial steps that can craft a better facet of the social science field.

Holding no boundaries, we accept and encourage research articles by authors based in any country of the globe, but in the internationally accepted English language.

Journal's Url : http://www.elkjournals.com/EAPJSS.asp

About Editorial Board
Dr. (Ms.) Anima Sharma Associate Professor, Reader (Soc. Sc.) and Researcher, Africa; PhD (Anthropology, Delhi University, India)
Dr. Akbar Husain Ph.D, M. Phil, M.A. (Psychology), Prof. in Department of Psychology, Aligarh Muslim University, India
Dr. Waheeda Khan Professor of Psychology, Honorary Director University Counseling & Guidance Centre, Jamia Millia Islamia (a Central University), New Delhi, India
Dr. P.K.Yasser Arafath Assistant Professor, Department of History University of Delhi
Dr. Prof. Abdul Matin Ph.D, M. Phil, M.A (Sociology); Chairman, Department of Sociology Aligarh Muslim University, India
Link to Editorial Board : http://www.elkjournals.com/EAPJSS.asp

Author Guidelines
Manuscript submitted is expected to contain original work, which has not been published elsewhere in any form – abridged or otherwise.
Each submitted article should be in English and should be between 4000-8000 words, double spacing with 12 points Times New Roman font, justified, down load-able.
All pages including figures and tables should be numbered.
APA citation style should be followed
The article should be accompanied with title page and Abstract of 150 words and a list of key words included in the article.
The authors name (full name), designation and organization affiliation with contact details should appear on the first page.
Tables, diagrams should also be separately provided for better re-production.
The manuscript should have a bibliography, footnotes and endnotes.
The received articles will be a property of ELK.
There would be a competition to select the best article. The author of the best article in an academic year would receive the best article award.
The manuscript should be arranged in the following order:
Title, author(s), name(s) of institution(s) and email addresses.
Abstract
Introduction
Discussion and hypothesis (if applicable)
Procedures for collecting data (if applicable)
Results (if applicable), figures and tables with legends
Conclusions
International and managerial implications
References
Footnotes
Acknowledgment
Submissions Procedures: Manuscript prepared according to the Guidelines for authors should be sent along with Copy Right Agreement. Hard as well as soft copies should be sent to the editor. Articles / Research Paper / Case Studies can be submitted Online over the website or through email at info@elkjournals.com or at support@elkjournals.com.
Link to Author Guidelines : http://www.elkjournals.com/Authorguide.asp

Indexed by : Google Scholar

Social Media Profile links