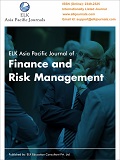 ELK Asia Pacific Journal of Finance and Risk Management(EAPJFRM)
Area of Research
Accounting, Analysis, Applied Mathematics, Business, Management and Accounting, Decision Making, Decision Sciences, Discrete Mathematics and Combinatorics, Economics, Econometrics and Finance, Finance, Geometry and Topology, Mathematics (General), Risk Management, Statistics and Probability, Statistics, Probability and Uncertainty, Strategy and Management
Journal's Aims & Scope
Knowledge of financial terms and mechanisms are crucial in today's world, not just for the professionals working in the field, but also for scholars who are preparing to be a part of the finance domain. Be it banking, insurance, risk management or securities trading, new research is being done by practitioners of financial theories, who seek to apply them to various spheres effectively. In a bid to bring this emerging knowledge to scholars and budding professionals, ELK Journals offers ELK Asia Pacific Journal of Finance and Risk Management.
Though we began with a focus on the Asia Pacific region, now we receive contributions from all over the world. Since we cover both theoretical and empirical work, our scope of publication is broad. Further, we accept contributions from academicians and professionals. The Advisory and Editorial Board possesses more than a decade of experience in relevant fields. This quarterly journal from the well-established journal house is internationally rated and listed in the Cabell's directory. We associate with renowned peer reviewers, who examine the papers to be published in the journal and give expert comments to enhance the value of research.
ELK Asia Pacific Journal of Finance and Risk Management follows the Double Blind Refereeing Process for reviewing the research papers submitted by research scholars, who are extremely keen towards creating a respectable reader base. We focus on authors who research about:
Development of innovative products, spanning across the financial, insurance and risk management subjects
Addressing issues of risk transfer and financing for emerging economies.

Thus we ensure a union of the modern mechanisms working in the developed world, and the policies which help the developing countries. We accept submissions which are meticulous and reflect depth of insight in the focused area. Some suggested topics, which authors can consider for research papers are Commercial insurance, Capital structure, Reinsurance, Credit-arbitrage methods, Alternative risk-transfer mechanisms, structured financial products, Risk securitization, and Derivatives.
Issues relating to the effective management of financial, operational, and business risk are also covered by the journal. We publish a wide range of papers in the ELK Asia Pacific Journal of Finance and Risk Management, which include Book Reviews, Doctoral Dissertation Abstracts, Research Papers, Case Studies and industry reports.
Key audiences include:
Developers of structured-product
Insurance and reinsurance professionals
CFOs and Attorneys
Financial-services regulators
Corporate risk managers
Hedge-fund managers
Compliance professionals
Applied finance/insurance scholars
Journal's Url : http://www.elkjournals.com/EAPJFRM.asp
About Editorial Board
Dr. Manesh L. Shrikant : Honorary Dean, SP Jain Institute of Management & Research, Mumbai
Dr. Pitabas Mohanty : Fulbright Visiting Scholar, NYU Stern, New York University, New York
Dr. Vidya Vijay Naik : Chairperson, Research & Phd Committee, Narsee Monjee Institute of Management Studies
Prof. Dr. Namita Rajput : Reader, Department of commerce, Sri Aurobindo College, University of Delhi
Dr. N Maruti Rao : Associate Professor in PG Dept of Business Administration, Rani Channamma University, Belagavi, Karnataka, India
Dr. Prof. Muhammad Mahboob Ali : Vice Chancellor, Professor, Presidency University, Dean and Head, M. H. School of Business, Presidency University
Link to Editorial Board : http://www.elkjournals.com/EAPJFRM.asp

Author Guidelines
Manuscript submitted is expected to contain original work, which has not been published elsewhere in any form – abridged or otherwise.
Each submitted article should be in English and should be between 4000-8000 words, double spacing with 12 points Times New Roman font, justified, down load-able.
All pages including figures and tables should be numbered.
APA citation style should be followed
The article should be accompanied with title page and Abstract of 150 words and a list of key words included in the article.
The authors name (full name), designation and organization affiliation with contact details should appear on the first page.
Tables, diagrams should also be separately provided for better re-production.
The manuscript should have a bibliography, footnotes and endnotes.
The received articles will be a property of ELK.
There would be a competition to select the best article. The author of the best article in an academic year would receive the best article award.
The manuscript should be arranged in the following order:
Title, author(s), name(s) of institution(s) and email addresses.
Abstract
Introduction
Discussion and hypothesis (if applicable)
Procedures for collecting data (if applicable)
Results (if applicable), figures and tables with legends
Conclusions
International and managerial implications
References
Footnotes
Acknowledgment
Submissions Procedures: Manuscript prepared according to the Guidelines for authors should be sent along with Copy Right Agreement. Hard as well as soft copies should be sent to the editor. Articles / Research Paper / Case Studies can be submitted Online over the website or through email at info@elkjournals.com or at support@elkjournals.com.
Link to Author Guidelines : http://www.elkjournals.com/authorinfo.asp

Indexed by : Cabell's, Citefactor, CrossRef, Google Scholar, ICMJE, Index Copernicus International, Jour Informatics, JournalGuide, Research Bible, ROAD open-access directory for scholarly resources, SHERPA/RoMEO

Social Media Profile links