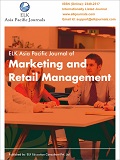 ELK Asia Pacific Journal of Marketing and Retail Management(EAPJMRM)
Area of Research
Arts and Humanities (General), Business, Management and Accounting, Development, Innovation Management, Knowledge Management and Systems, Management, Monitoring, Policy and Law, Marketing, Media Technology, Retail Management, Strategy and Management
Journal's Aims & Scope
ELK Asia Pacific Journal of Marketing and Retail Management is a unique initiative from the ELK group, with the founding objective to bring on-board an international journal of marketing. With the retail industry taking huge strides and developing to an unprecedented scale, there is requirement, as well as scope for research in the field. This gave direction to our international journal of marketing under the publication title of ELK Asia Pacific Journals. Through this scholarly publication into the field of marketing and retail management, we connect with the academic researchers, as well as professionals, who conduct studies in the sphere of marketing and retail trade on two levels.
On one hand, we invite contributions from the researchers and ask them to send across their research papers for publication to an international journal of marketing. Thus, we support the efforts of the scholars. On the other hand, we have highly distinguished professionals with us as part of the editorial team. They ensure to follow a strict Double Blind Peer Review process so as to maintain the standards of our impact factor journal of marketing and retail management. They review every paper and add value with their constructive feedback.
The subject areas, not being limited to, that are covered under the scope of the journal are:
Marketing
Retail Trade
Marketing & Planning
Entrepreneurship marketing
Policy, Pricing and marketing
Retail Management
Marketing theories & philosophies
Benchmarking
Marketing strategies
Corporate social responsibility
International marketing strategies
Relationship Marketing
Corporate innovation restructuring
Marketing Mix
Corporate brand management
Supply Chains
Distribution Channels
The worth of the papers is enhanced manifolds by getting published in the ELK Asia Pacific Journal of Marketing & Retail Management. The journal undergoes peer review by most distinguished editors and subject matter experts. It is also listed in the Cabell's Directory. This makes it an international journal of marketing, which reaches hundreds of institutions and professional bodies, through the online open-access publishing mode.
EAPJMRM offers unique benefits for readers, contributors and institutes/ universities. It follows the Double Blind Refereeing Process for review and acts as an effective medium for promoting marketing education. We encourage both theoretical and empirical research. ELK Group also offers ELK Asia Pacific Journal of Finance and Risk Management.
Our scope in terms of material published includes Doctoral Dissertation Abstracts, Research Papers, Book Reviews and Case Studies and industry reports. This website seeks to make the process of reaching us simpler by facilitating submission of papers throughout the year, directly through the site. We invite senior academicians to join us as reviewers and editorial board members.
Key audiences:
Retail managers
Suppliers and contractors to the retail industry
Consultants
Retail strategists, researchers and students
Libraries supplying practicing managers and researchers
Journal's Url : http://www.elkjournals.com/EAPJMRM.asp

About Editorial Board

1. Dr. Anup Kumar Baskhi

Ph.D., MBA, MSc Asst. Professor, Dept. of Management Science & Coordinator-Entrepreneurship Development Cell (AICTE Sponsored) Bengal Institute of Technology & Management, Santiniketan West Bengal University of Technology




2. Dr. Manesh L. Shrikant

Honorary Dean, SP Jain Institute of Management & Research, Mumbai




3. Dr. Pingali Venugopal

Dean XLRI, Jamshedpur




4. Prof. Arvind Bhai Brahmbatt

Professor and Chairman, DPM, Institute of Management, Nirma University, Gujarat





5. Prof. Vimi Jhamb

Associate Professor -Marketing, IMT Ghaziabad.





6. Prof. D Israel Professor

Marketing, XLRI, Jamshedpur





7. Dr. Pratyush Tripathi Principal

VNS Group of Institutions & Professor at Faculty of Management Studies, VNS Group of Institutions, Bhopal





8. Dr. Seetaiah Kilaru

Ph.D. in Telecommunication Engineering, Associate Professor in Department of Electronics and Communication Engineering, KL University, India





9. Dr. Saswati Chakraborty

PhD (Environmental Science and Engineering) from IIT, Bombay; Currently a Professor at Department of Civil Engineering, Indian Institute of Technology Guwahati, India

Link to Editorial Board : http://www.elkjournals.com/EAPJMRM.asp

Author Guidelines
Manuscript submitted is expected to contain original work, which has not been published elsewhere in any form – abridged or otherwise.
Each submitted article should be in English and should be between 4000-8000 words, double spacing with 12 points Times New Roman font, justified, down load-able.
All pages including figures and tables should be numbered.
APA citation style should be followed
The article should be accompanied with title page and Abstract of 150 words and a list of key words included in the article.
The authors name (full name), designation and organization affiliation with contact details should appear on the first page.
Tables, diagrams should also be separately provided for better re-production.
The manuscript should have a bibliography, footnotes and endnotes.
The received articles will be a property of ELK.
There would be a competition to select the best article. The author of the best article in an academic year would receive the best article award.
The manuscript should be arranged in the following order:
Title, author(s), name(s) of institution(s) and email addresses.
Abstract
Introduction
Discussion and hypothesis (if applicable)
Procedures for collecting data (if applicable)
Results (if applicable), figures and tables with legends
Conclusions
International and managerial implications
References
Footnotes
Acknowledgment
Submissions Procedures: Manuscript prepared according to the Guidelines for authors should be sent along with Copy Right Agreement. Hard as well as soft copies should be sent to the editor. Articles / Research Paper / Case Studies can be submitted Online over the website or through email at info@elkjournals.com or at support@elkjournals.com.
Link to Author Guidelines : http://www.elkjournals.com/authorinfo.asp

Indexed by : Cabell's, Citefactor, CrossRef, Google Scholar, ICMJE, Index Copernicus International, Jour Informatics, JournalGuide, Research Bible, ROAD open-access directory for scholarly resources, SHERPA/RoMEO

Social Media Profile links