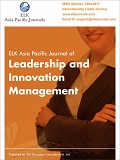 ELK Asia Pacific Journal of Leadership and Innovation Management (EAPJLIM)
Area of Research
Business, Management and Accounting, Innovation Management, Leadership Management, Management of Technology and Innovation, Management, Monitoring, Policy and Law
Journal's Aims & Scope
ELK Asia Pacific Journal of Leadership and Innovation Management is an Open Access double-blind peer-reviewed journal targeted to address the current topics in the field of leadership from a global perspective. This google scholar indexed international journal of leadership welcomes research papers and articles based on leadership discussions, policies and procedures and their implications for learning and policy making and outcomes across disciplines. The topics of leadership and a variety of disciplines to be included in the journal's scope, not being restricted to this, are:
Leadership policies
Leadership development
Role and attributes of a leader
Purpose and outcomes of leadership
Analytical and theoretical facet of leadership
Styles and forms of leadership
Contextual aspect of leadership
Expanded and diverse views of leadership
Another facet to which our journal focuses on is the Innovation Management. This multi-disciplinary approach covers a broad range of methodological settings. Along with broad aspects such as key challenges of managing innovation, it also entails narrow aspects like technology, R&D and new product development. Being inclusive and practical, the ELK Asia Pacific Journal of Leadership and Innovation Management encourages active interaction between managers and research academicians. The primary aim and focus of this international journal of leadership is to link the research and practice of innovation management. Contributions on the underlined are also welcome:
Innovation networks and systems

Impact on policy makers

Innovation Process

Role of leaders and entrepreneurs on managing innovation

Emerging concepts in innovation management and processes

Cross-functional integration

Business Anthropology

Creativity

Design Thinking

Market Research and strategies
It is based on a problem-solving approach while attempting to integrate technological, organisational and market innovation.
Journal's Url : http://www.elkjournals.com/EAPJLIM.asp
About Editorial Board
Dr. Priya Grover PhD, MBA, Assistant Professor(Senior Scale) in University of Petroleum and Energy Studies(UPES),Dehradun, India
Dr. Vishal Verma PhD, MBA, Professor in Department of Marketing Management, TAPMI, India
Link to Editorial Board : http://www.elkjournals.com/EAPJLIM.asp

Author Guidelines
Manuscript submitted is expected to contain original work, which has not been published elsewhere in any form – abridged or otherwise.
Each submitted article should be in English and should be between 4000-8000 words, double spacing with 12 points Times New Roman font, justified, down load-able.
All pages including figures and tables should be numbered.
APA citation style should be followed
The article should be accompanied with title page and Abstract of 150 words and a list of key words included in the article.
The authors name (full name), designation and organization affiliation with contact details should appear on the first page.
Tables, diagrams should also be separately provided for better re-production.
The manuscript should have a bibliography, footnotes and endnotes.
The received articles will be a property of ELK.
There would be a competition to select the best article. The author of the best article in an academic year would receive the best article award.
The manuscript should be arranged in the following order:
Title, author(s), name(s) of institution(s) and email addresses.
Abstract
Introduction
Discussion and hypothesis (if applicable)
Procedures for collecting data (if applicable)
Results (if applicable), figures and tables with legends
Conclusions
International and managerial implications
References
Footnotes
Acknowledgment
Submissions Procedures: Manuscript prepared according to the Guidelines for authors should be sent along with Copy Right Agreement. Hard as well as soft copies should be sent to the editor. Articles / Research Paper / Case Studies can be submitted Online over the website or through email at info@elkjournals.com or at support@elkjournals.com.
Link to Author Guidelines : http://www.elkjournals.com/Authorguide.asp

Social Media Profile links