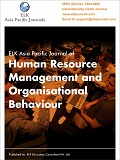 ELK Asia Pacific Journal of Human Resource Management and Organisational Behaviour(EAPJHRMOB)
Area of Research
Arts and Humanities (General), Human Factors and Ergonomics, Human Resource Management, Human-Computer Interaction, Organizational Behavior, Organizational Behavior and Human Resource Management
Journal's Aims & Scope
The ELK Asia Pacific Journal of Human Resource Management and Organisational Behaviour is an Open-Access quarterly journal devoted to publish scholarly articles entailing empirical and conceptual reviews. Intended for researchers, policy makers, and practitioners, the journal covers research topics on allied fields of Human Resource and Organisational Behaviour including labour economics, organizational psychology, individual and group level of analysis. However, the journal also considers research work and analysis at the macro level, i.e. Organisational societal level.
The objective of the journal is to provide a platform for ideas and critical examination of models, frameworks and theoretical concepts. Striving to live up to this objective, EAPJHRMOD publishes research articles, case studies, and empirical studies on topics critical to Human Resource and Organisational Development managers of today.
Subject areas considered suitable, but are not limited to, include
Personnel selection
Compensation
Performance appraisal
Training and development
Employee engagement and retention
HR applications of technology
Organisational culture and environment
HR planning, policies and practices
Employee safety, health and productivity
Evaluation of employee satisfaction
Grievance management
Managing absenteeism and turnover
Incentive policies- monetary and non-monetary
Behavioural modelling
OBM interventions
Future trends of human resource
Journal's Url : http://www.elkjournals.com/EAPJHRMOB.asp

About Editorial Board
Dr. Poornima Professor, Ramaiah Institue of Mgt. Studies., Bangalore
Dr. M. Swapna PhD from Vellore Institute of Technology (VIT) in the field of HRM; Presently Senior Faculty in Ramaiah Institute of Management Studies, Bangalore, India
Link to Editorial Board : http://www.elkjournals.com/EAPJHRMOB.asp

Author Guidelines
Manuscript submitted is expected to contain original work, which has not been published elsewhere in any form – abridged or otherwise.
Each submitted article should be in English and should be between 4000-8000 words, double spacing with 12 points Times New Roman font, justified, down load-able.
All pages including figures and tables should be numbered.
APA citation style should be followed
The article should be accompanied with title page and Abstract of 150 words and a list of key words included in the article.
The authors name (full name), designation and organization affiliation with contact details should appear on the first page.
Tables, diagrams should also be separately provided for better re-production.
The manuscript should have a bibliography, footnotes and endnotes.
The received articles will be a property of ELK.
There would be a competition to select the best article. The author of the best article in an academic year would receive the best article award.
The manuscript should be arranged in the following order:
Title, author(s), name(s) of institution(s) and email addresses.
Abstract
Introduction
Discussion and hypothesis (if applicable)
Procedures for collecting data (if applicable)
Results (if applicable), figures and tables with legends
Conclusions
International and managerial implications
References
Footnotes
Acknowledgment
Submissions Procedures: Manuscript prepared according to the Guidelines for authors should be sent along with Copy Right Agreement. Hard as well as soft copies should be sent to the editor. Articles / Research Paper / Case Studies can be submitted Online over the website or through email at info@elkjournals.com or at support@elkjournals.com.
Link to Author Guidelines : http://www.elkjournals.com/Authorguide.asp

Social Media Profile links